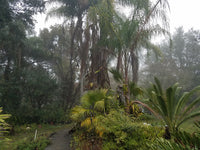 The Chacruna Store
ANNOUNCEMENTS:
Chokma there guys! '22 been a rough year with a loss of a close friend, two hurricanes, a very cold winter which included one major freeze. Some of our plants got some significant damage, but should be fine.

'22 was a very busy year for the nursery, I appreciate your support, the volume has been challenging at times for me to deal with. We are still trying to ship twice a month on Mondays. Thank you for your patience and understanding.

About Us
Chokma(Hello)! Originally founded in the late 1990's by my mother, we are a small nursery in Florida offering some of the rarest plants in the world, and helping preserve plants on a 3 acre miniature botanical garden. This is not my fulltime job, as such I respond when I can, but can be a little slow. We are Chickasaw Nation Citizens and have a focus on preservation of important botanicals and culture to indigenous peoples.
Please follow us on @chacrunastore on instagram! Email
inquiries@thechacrunastore.com for inquiries on unlisted plants.


We are proud to offer periodic listings of unrooted Chaliponga cuttings! We have also listed some jungle cacti, and other new plant offerings. Trichocereus cuts from Florida might be available soon! We ship out on Mondays, Tuesdays the latest Twice a month.
Coming Soon

Mimosa Tenufilora Seedlings
Comng Soon

B. Caapi rooted plants
Coming Soon

Mitragyna Hirisuta
Coming Soon
Mimosa Tenufilora Seedlings
Comng Soon
B. Caapi rooted plants
Coming Soon
Mitragyna Hirisuta